Navigating the Dashboard¶
The dashboard to gives you a summary of the state of your account. It has been designed to be intuitive and efficient.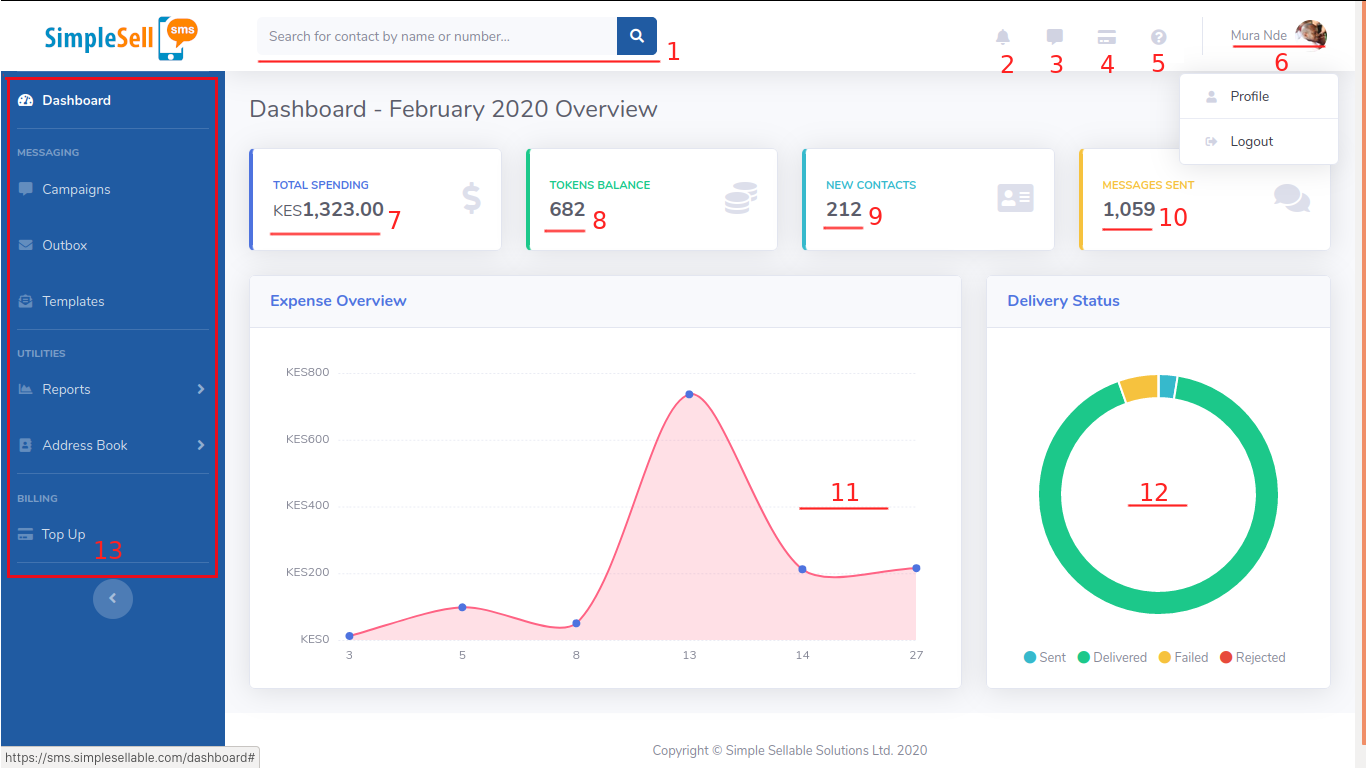 The key elements of the dashboard labelled above are as follows:
Search. This enables you to find a contact quickly using their name or phone number
Alerts. Click on this to view your account balance. Anything that urgently needs your attention will show up here
SMS Campaign. This quickly takes you to the SMS Campaigns page (see

How to Message a Group (SMS Campaign)

)
Top Up. This takes you to the page where you can purchase tokens (see

What are Tokens?

)
User Guide. Access our comprehensive knowledge base with step-by-step instruction on how to perform any task
My Account. This shows who you are logged in as. You can also manage your account or log out from here. Always remember to log out when done using the system, especially if using a shared computer, to prevent access by unauthorised users
Total Spending. This shows how much you've spent in the current month. This total only considers value of tokens consumed, not tokens purchased
Tokens Balance. These are the tokens still available to you. This balance changes as you use up or purchase tokens.
New Contacts. These are the contacts added to your addressbook in the month, regardless of how they were added (see

Managing Contacts

)
Messages sent. This shows the total number of messages [1] sent in the month
Expenses Overview. This shows total spending by day over the current month
Delivery Status. This shows which faction of messages where delivered and which were not (see

SMS Delivery Status

)
Navigation Menu. Allows you access various functions of the system
Important
Items 1 to 6 as well as 13 are visible on every page.
Attention
Make sure you pay special attention to the alerts area. If you getting an error message when you try to perform a task, then the reason might be indicated here.
Footnotes
| | |
| --- | --- |
| [1] | By a message we mean a single communication. For our purposes here, a communication that is made up of more than 1 SMS text is only counted as 1 message |