Billing¶
You need to keep your account topped up in order to send text messages. If your balance is less than what you need to perform an SMS campaign, your campaign will be halted until you top up.

You top up your account by purchasing tokens via M-pesa.
What are Tokens?¶
A token is a billing unit for items or services on SimpleSell SMS. For example, 1 token is enough to purchase 1 text message.
Tokens are consumed when you perform the following:
Send a single text message: 1 token is consumed per SMS; multiple tokens may be consumed if your message spans more than 1 SMS or if an unsubscribe notice is appended to the SMS (see

How to Unsubscribe

)
Do an SMS campaign: the number of tokens consumed is dependant on number of recepients and the length of each message
Link your account with M-pesa for automatic contacts update: 2 tokens are consumed each time a new contact is added (see

Integration for Automatic Update

)
Important
Automatic contacts update via M-pesa can result in your tokens balance getting to below 0. If this happens, you will not be able to send messages until you top up your account.
Topping Up¶
There are two ways through which you can top up up your account:
Through M-pesa Online Checkout
Through direct payment to Paybill
How to Top Up Though M-pesa Online Checkout¶
This is the easiest, fastest, safest and recommended method for topping up. It involves 3 simple steps: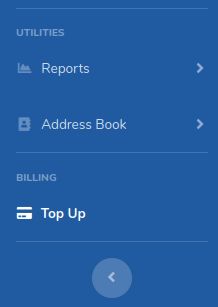 Go to the top up page by clicking on the Top Up menu item at the bottom of the menu that is on the left hand side of your screen. You can also click on the credit card icon on the top right of the page. You will be taken to a page titled Make Payment
Enter your M-pesa phone number and the amount you wish to pay (minimum KES50). If your M-pesa phone number is the same as the number you signed up with, it will have been pre-filled for you. Make sure that your phone is nearby and unlocked and click Make Payment
On your phone, you will receive a prompt to confirm your payment to Simple Sellable Solutions. Enter your M-pesa PIN to complete the transaction. Your account will be topped up within a minute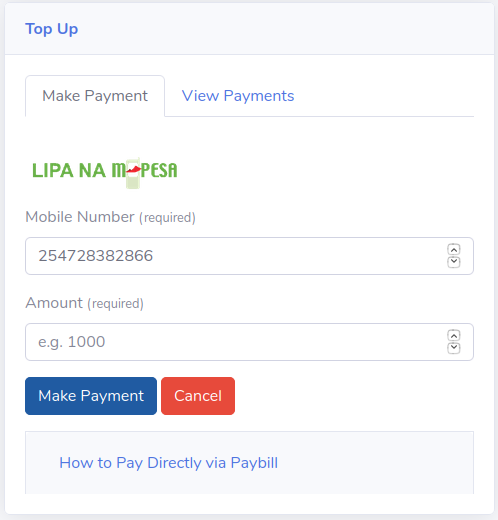 You should receive a payment prompt like the one below to confirm your payment. The account and amount displayed will vary depending on your account information and how much you want to top up.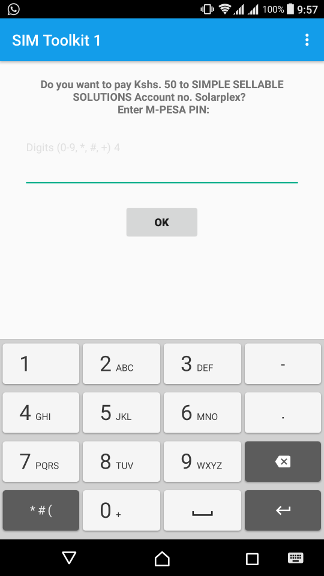 If your SIM card is from 2017 or earlier, you may fail to receive the payment prompt and may require to update your SIM card. To do this, follow these steps:
Dial *234#
Select M-pesa Products
Select SIM Card Upgrade
If this does not solve the problem, then you may need a SIM card replacement. Talk to Safaricom customer care for further assistance. In the meantime, you can try the alternative top up method below.
How to Top Up Directly via Paybill¶
Follow these steps:
Select Safaricom from your SIM toolkit application
Select M-PESA
Select Lipa na M-PESA
Select Pay Bill
Select Enter business no.
Enter the Paybill number 177541
For account number, use your sender ID (see

How to Create an Account

)
Enter amount you want to top up with (minimum KES50)
Enter your PIN and submit
That's it! If your payment should reflect within 5 minutes. Contact us if it takes longer than that.
For exact instructions, click on the How to Pay Directly via Paybill link below the Online Checkout Form.